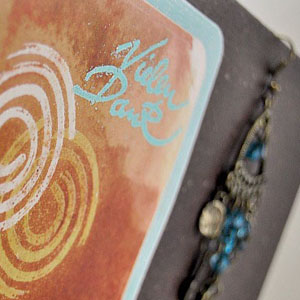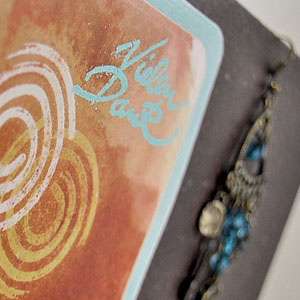 Todays  technique is all about "what can I use for stamping without buying a stamp?" We all love and buy a lot material for crafting, but you should always keep in mind that you can expand your material and techniques with things you can find everywhere: In your kitchen, your wardrobe or even the waste bin.
For the foam scrap stamp I used some left overs from foam cutting. Making stamps with foam is not a new idea, stampers do that for decades! But when I stamped my background paper yesterday I thought about swirls and circles, and that's what gave me the inspiration for this quick and easy idea. For more English please scroll down.
Heute habe eine kleine Idee für euch, die mir gestern kam als ich mit dem Kreisstempel von Kaleidoskop das hübsche Hintergrundpapier bestempelt habe. Um Papier und andere Untergründe zu bedrucken benutzen wir Stempler ja schon seit Ewigkeiten Moosgummi oder andere Materialien. Zur Erinnerung: Stempeln ist ein Hochdruckverfahren, und man kann dafür alles benutzen was "übersteht". Auch Wärmflaschen oder Schuhsohlen.
Meist haben wir dann Moosgummi-Formen als Stempel benutzt, oder das Moosgummi durch erhitzen weich gemacht und Strukturen hineingeprägt, mit denen man wiederum toll drucken kann. Heute benutzen wir das Moosgummi mal anders: Wir rollen es auf!
Ich habe euch eine kleine Bilderanleitung gemacht, die man durch Vergrößern besser sehen kann, ich hoffe man versteht alles. So kompliziert ist das ja nicht. Zwei unterschiedlich schmale Streifen schneiden (einer sollte eine grade Kante haben, mit der man dann später stempelt), den schmaleren auf den breiteren kleben, an einen Bleistift kleben und aufrollen. Dabei nicht zu fest zusammendrücken, damit eine Lücke bleibt und sich eine Art Spirale ergibt. Überstehendes abschneiden und beim stempeln den Stempel von oben gut andrücken.
Using the foam for stamping is a well known feature. You can cut or die cut foam to make stamps with it. A cool technique is to heat the foam to make it soft and press a structure in. That gives a stamp for nice patterns or backgrounds. But today we use the foam in another way, we ROLL it. I made a small tutorial for you and hope everything makes sense. You can enlarge the image by clicking on it.

Easy as pie! To give you some ideas how to use your new swirl stamp I made another mini tutorial about layering colour with clear embossing. Hope you enjoy.
Kinderleicht! Damit ihr seht was man mit eurem neuen Kringelstempel machen kann, nachfolgend ein weiteres Mini-Tutorial mit klarem Embossingpulver und einer Farbwalze. Außerdem Musterkarten zur Anregung.
Zunächst stempelt euren Kringel ein paarmal auf Glanzpapier, pulvern und schmelzen, abkühlen lassen. Mit Tusche und einer Gummiwalze Farbe drüberwalzen, trocknen lassen, das klare Stempelembossing wiederholen, wieder walzen und trocknen lassen, überschüssige Farbe von den Kringeln abwischen. Mit einer Stanzform gewünschten Teil auswählen und schneiden. (Ja, das geht auch ohne Stanze)
Wenn es euch Spaß gemacht habe, dann empfehlt uns weiter. 🙂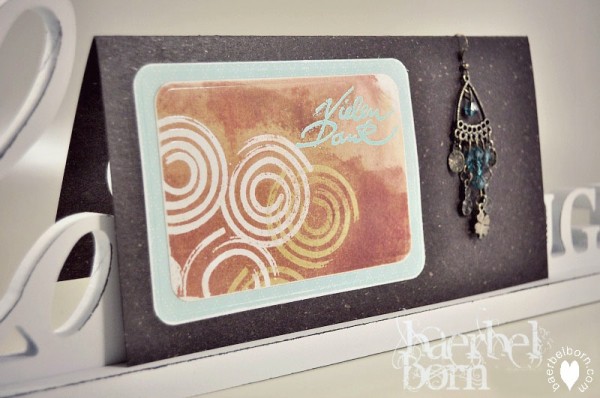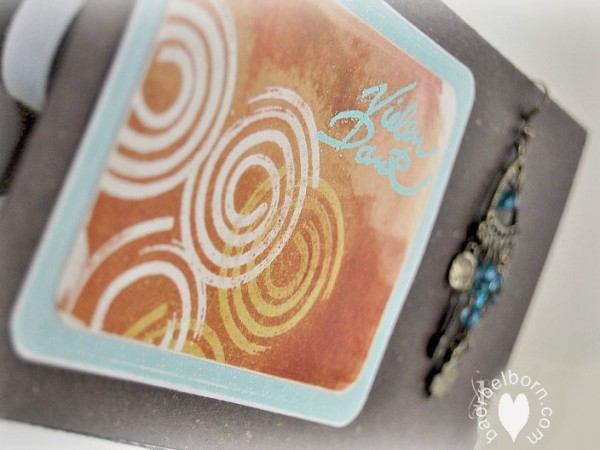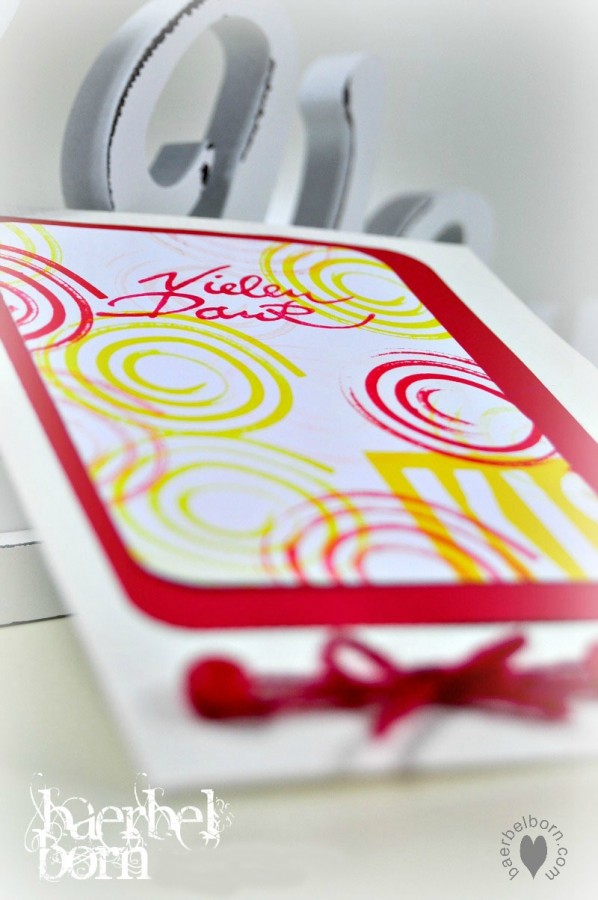 Support is LOVE