Today I have two quick inspirations for you. Maybe it has been done a million times before, but I never saw it and maybe it's new for you. For more English please scroll down.
Heute zwei Ideen auf die Schnelle. Moosgummi ausstanzen ist so alt wie Stanzmaschinen selbst. Als ich meine erste Maschine gekauft habe, so etwa 1999, gab es eigens selbstklebendes Moosgummi für diesen Zweck von der Firma Ellison zu kaufen.
Ich habe heute ganz normales Moosgummi verwendet, wie es das in jedem Bastelladen zu kaufen gibt. Gestanzt habe ich es mit ovalen Spellbinders Stanzen, die ich schon länger im Fundus habe und bisher nie benutzt habe. Der erste Versuch mit den heißgeliebten "Opulent Ovals" sah schon klasse aus. Diese Stanzen hatte Spellbinders mir neulich mit 3 weiteren zum Spielen geschickt, und ich kann mir garnicht mehr vorstellen, wie ich jemals ohne ausgekommen bin.
Das Moosgummi wird zweimal ausgestanzt und aufeinander geklebt. Ich brauche diese dicke Schicht (dickes Moosgummi habe ich hier vor Ort nicht finden können!) damit ich beim Einfärben des DIY-Stempels nicht immer den Griff einfärbe. Außerdem druckt der Stempel dann besser, zumindest ist dies meine Erfahrung. Der erste Versuch sah schon ganz gut aus (rechts) und der zweite auch (links).
Damit das Moosgummi auf dem Griff klebt, habe ich es mit "fix it" von Marabu eingesprüht. (Das wurde mir bei meinem Besuch neulich geschenkt, ich hab es vorher nie in Läden gesehen und nun benutze ich es täglich, lustig)
For the DIY frame stamp (and any other stamp made with foam) I cut two of the shapes. Then I glue the two together. This is an important step for me, because I cannot get thick foam in my craft store, thinner foam doesn't print very nice and I smear stamp ink on my handle when inking a flat foam stamp. Feel free to find your foam and thickness, keep in mind that you can cut more than one with the die. I used my "opulent ovals" for my first try (on the right, second try on the left).
To keep the foam on the handle I spayed it with glue spray from Marabu, a german manufacturer of paints and craft supplies.
The second idea for today is to make your own silhouette stamp. Often I see cute and pretty silhouette stamps that I really love, but it makes me kind of sad that I only can stamp the silhouette with it. So I tried some of my latest stamp designs with that "silhouette" technique. Well… it's a bit silly to call it a technique, because basically you only have to fill the lines with a black pen. But I never saw it anywhere, and I already love it! Not every stamp will work for you, so keep trying the trick on your favourite stamps and see what you get.
Die zweite Idee für heute ist sehr einfach. Ich habe so oft wunderschöne Silhouetten-Stempel gesehen, fand es aber schade dass man nur diese Silhouette damit stempeln kann. Mit diesem simplen Trick könnt ihr aus euren Stempeln mehr machen! Testet eure Lieblingsmotive aus, indem ich sie einfach mal schwarz ausmalt und lasst euch überraschen!
Ich finde, der Wolf sieht als Silhouette echt klasse aus! Die Fee ebenfalls, während der kleine Gartenzwerg nicht mehr so gut als solcher erkennbar ist. Trotzdem ein gelungenes Experiment, wie ich finde.
My first tests show that the wolf and the fairy works fine with silhouetting, but the garden dwarf doesn't. You may try all your stamps like that and maybe you will be surprised!
To show the two ideas working together I stamped on an envelope. If you want to mail something, a frame made with paper or cardboard would be damaged! By stamping the frame your art ist save! I hope you like it.
Um beide Ideen zusammen zu bringen habe ich auf einen Umschlag gestempelt. Der gestempelte Rahmen hat hier auch den Vorteil, dass man den Umschlag mit der Post verschicken kann, ohne das dieser beschädigt wird, was der Fall sein könnte wenn man einen Papierrahmen aufklebt. Ich hoffe es gefällt euch.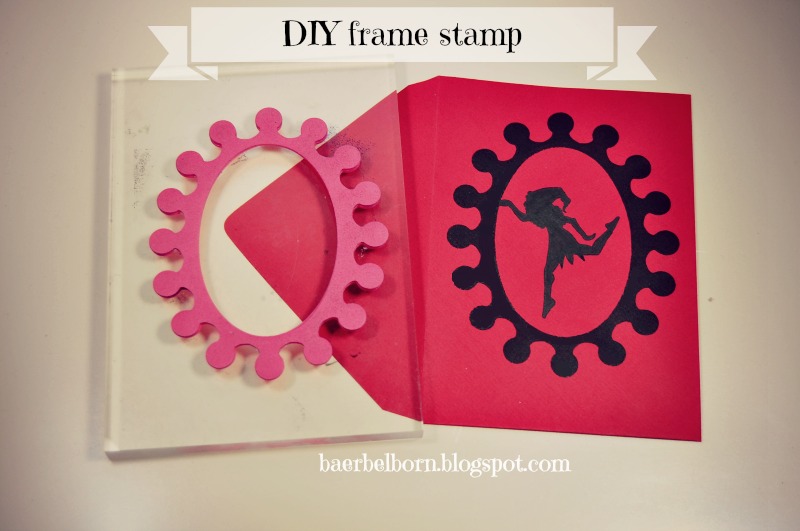 PS: If you compare the fairy on the red envelope with the test print on the sheet… do you recognize I changed the fairys skirt a bit? I didn't like the silhouette of her skirt, so I added a few extra bits. I think this will work for every stamp image that will look a bit weird if silhouetted. 
PS: Fällt euch der kleine Unterschied zwischen den Feen auf dem Umschlag und dem Probedruck auf? Mir gefielen die Zipfelchen des Kleides nicht nach dem ausmalen, also habe ich diese auf dem Umschlag ergänzt. Diesen kleinen Trick kann man bei allen Silhouetten anwenden, deren Details euch nicht gefallen.
Stamps I used/ verwendete Stempel: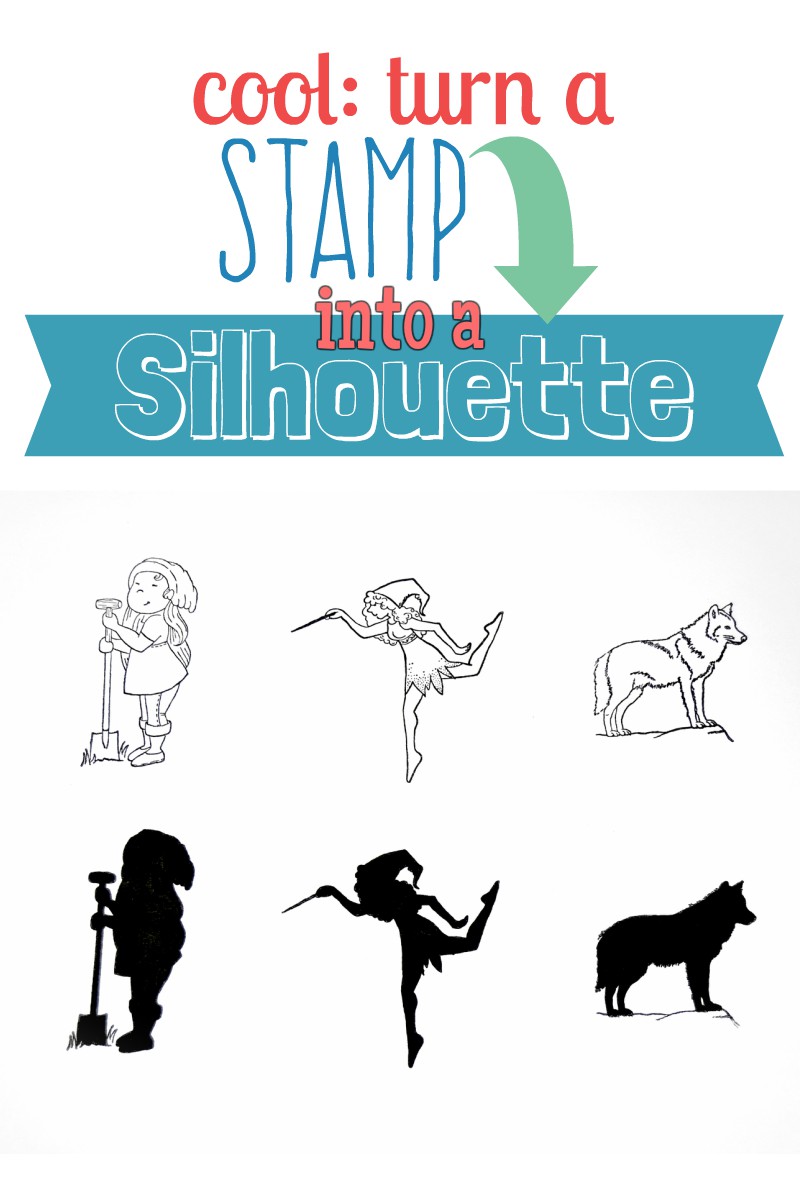 Support is LOVE