We're so glad you could join us this weekend for the Stampendous Stamps, ICE Resin® and Imagine Crafts®/Tsukineko® Blog Hop! We've seen some amazing projects so far, and there is a lot more to come today! If you missed Thursday's post you can find it HERE, Friday's post is HERE, Saturday's post is HERE.
We know you are going to love making your own jewelry, and to make that easy we're offering a nice prize package this week! Three lucky winners will receive a package with:
• 2 – Stampendous Perfectly Clear Stamp™ sets with designs sized for jewelry or small project making
• 2 – StazOn™ permanent ink pads by Tsukineko® courtesy of Imagine Crafts® – yummy Ganache and the must-have Jet Black
• 1 – 30ml package of ICE Resin Jeweler's Grade Self-Doming resin
• 1 – pkg Suzan Lenart Kazmer Art Mechanique Silhouettes in Heart Shape
• 1 – pkg Kristen Robinson Rue Romantique bezel(s) (styles vary). WOW!! You'll be crafting some awesome jewelry in no time!

How to Hop:
Each day we'll post the designers participating in the Blog Hop. Click on each one and check out their project. Leave a comment on their blog that lets them know you really looked at their project. We 'll draw three blogs at random from the four days, then randomly draw one commenter from each blog. You must have a U.S. mailing address to win, but we'd love for everyone to hop and comment! You can check out the Official Rules for all our contests if you have questions. We'll draw winners on Monday, May 5 and announce them Monday or Tuesday, so be sure to come back and check for your name!
So let's get hoppin! Here's who is posting today:
Imagine Crafts
Stampendous
ICE Resin
***Blog Hop Hint – if you click on a link that takes you to a page saying something like, "Sorry this page cannot be found," just click on the header at the top of the blog (usually a picture, or the blog's name), and it will take you to that blog's most recent post. That post *should* be our hop. If not, you can probably scroll down a short way to find the hop post.
___________________________
May the fourth be with you – Steampunk princess Leia
Every star wars fan knows todays date: May 4th. Or 'may the fourth by with you'. That's why I call todays project Leia.
This is basically what you need for this project (Silver StazOn is missing in the image):
My project started when I recently found a dead firefly, the poor creature must have been caught behind my gardening tools with the last days of summer last year. It was still beautiful yet fragile and was almost destroyed when I picked it up. ICE Resin is the perfect medium to preserve any fragile and dry object. I have put the 4 wings to my Imagine Crafts craft mate, which I think is perfect to work with ICE Resin.
Then I stamped the dress form from Stampendous onto a sturdy watercolor cardboard with black Memento and cut it out.
I have prepared my ICE Resin as usual and covered the wings completely from both sides. I also covered the cut out print with ICE Resin from both sides. The paper didn't become transparent because the paper was extremely thick. While I covered the wings I used the Resin as a kind of glue, after the Resin is set the wings are fixed. You have to let cure the Resin for 24 hours.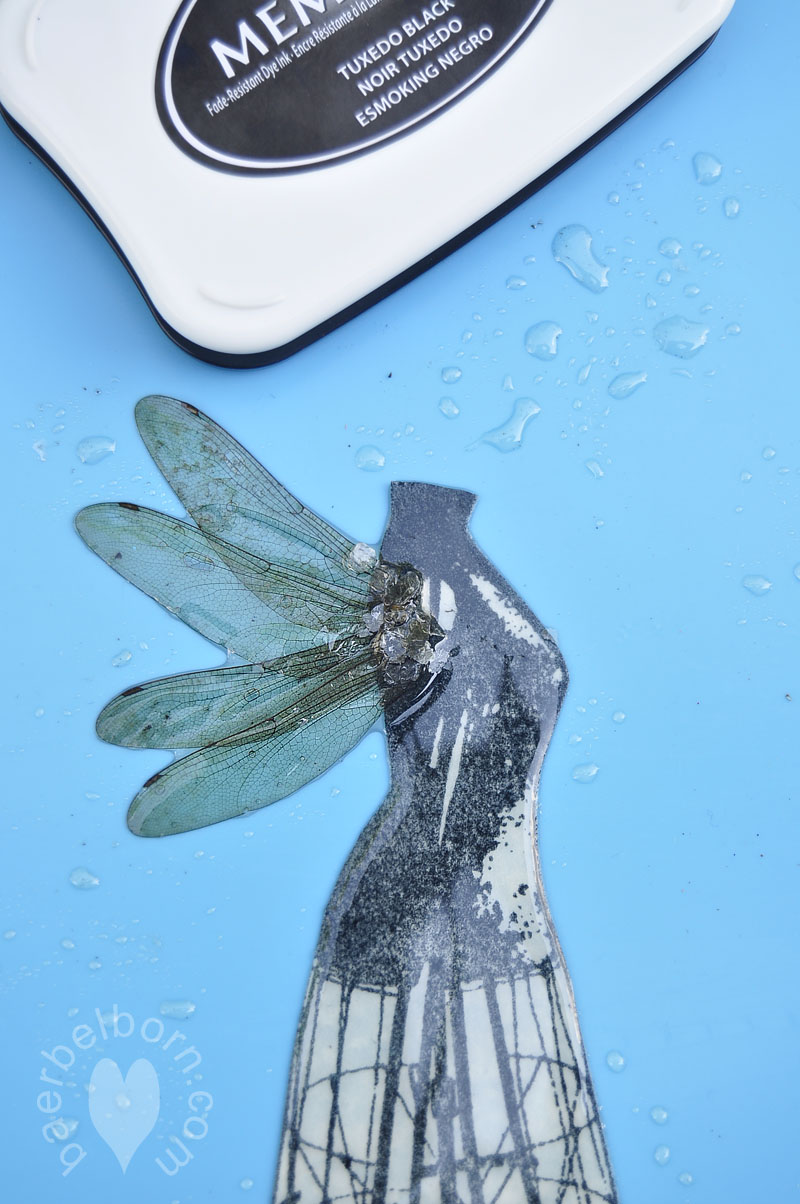 EXTRA-TIP: If you brush ICE Resin to the craft mat, you will get some drops and puddles. Let them cure and save for later projects. You can add the cured drops with a bit of glue for water effects on any papercraft.
Then I used a brush with silver StazOn on the body of the dress form and let dry. With a paper tissue I added some purple StazOn (oh my! I love it!) to the bottom of the dressform and the silver top. With craft glue I added some screw-nuts and gears for the Steampunk look.
With a thick wire attached to the back the firefly dressform became a flower marker.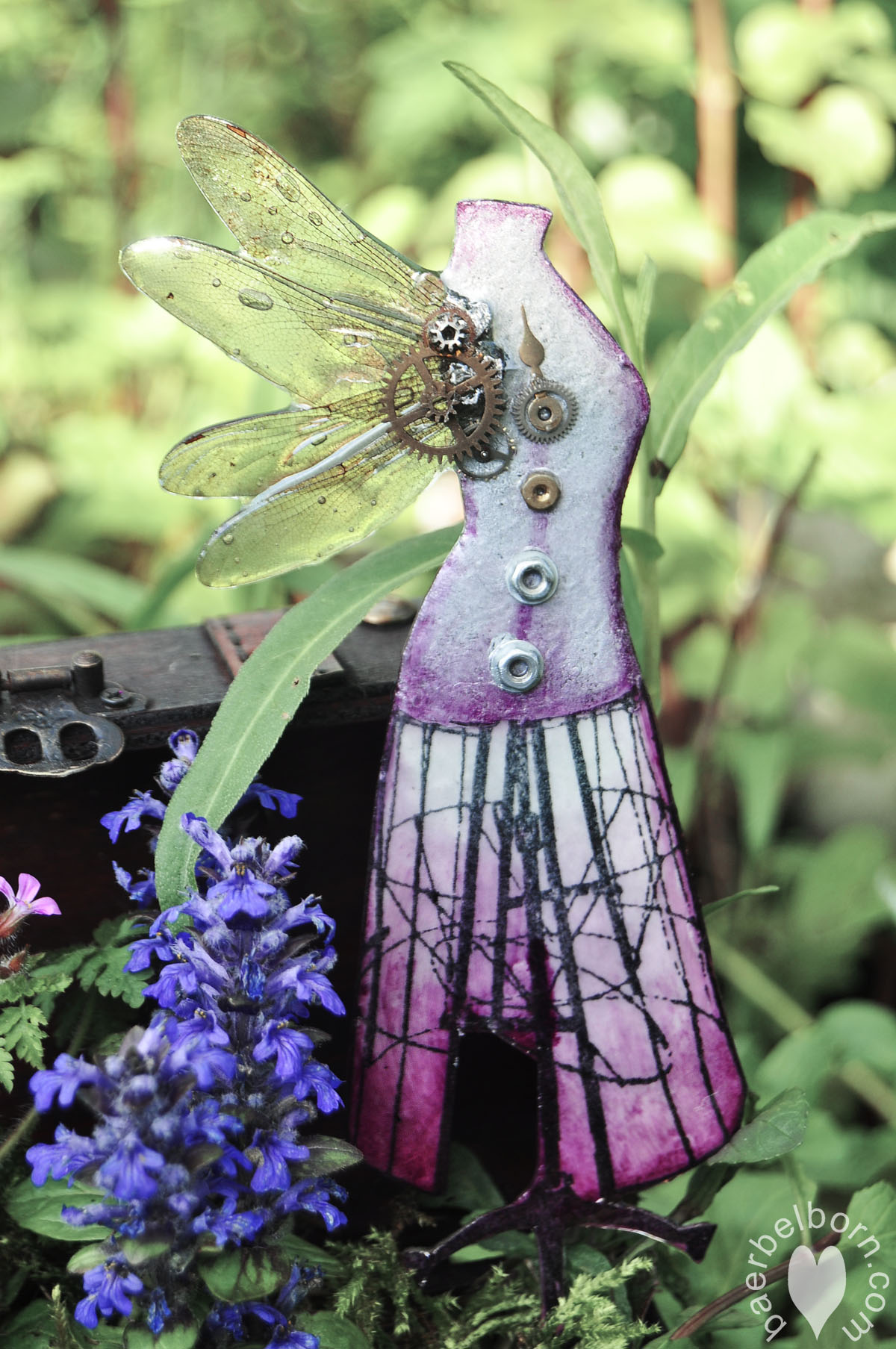 The silver StazOn has been perfect to paint the resinated parts of the dress form. The StazOn will dry permanent on any coated surface. Because is has been painted on the raised areas of the Resin it gave a real realistic look of metal.
I wanted to match the dressform with my little toy to make the Star Wars connection: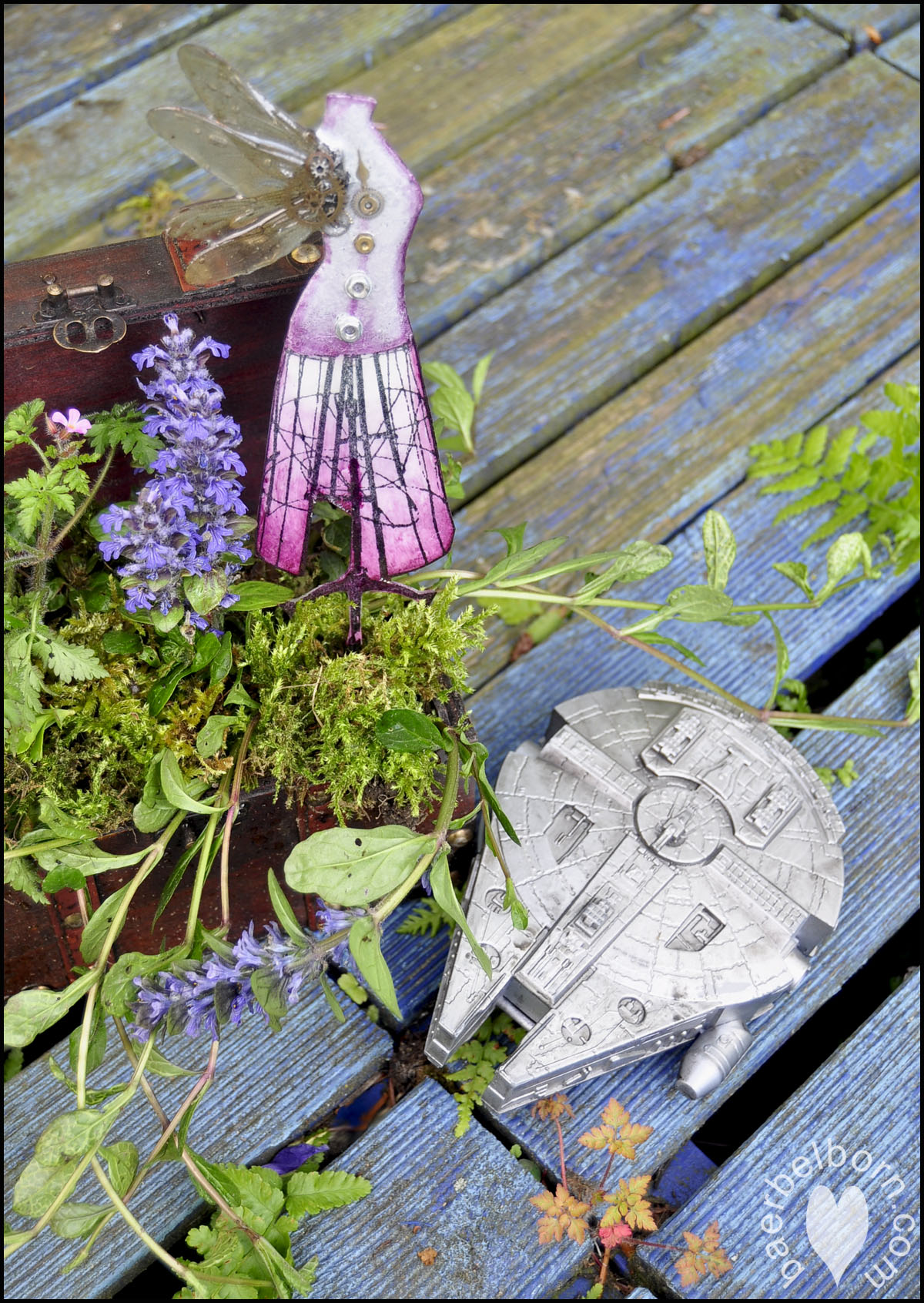 For the flower pot and an extra Steampunk feeling I used an old wooden box, covered it with some foil on the inside to protect the wood from the potting soil. With some weeds (bugleweed, red robin) and moss from my garden I made this floral centerpiece. I hope you like it.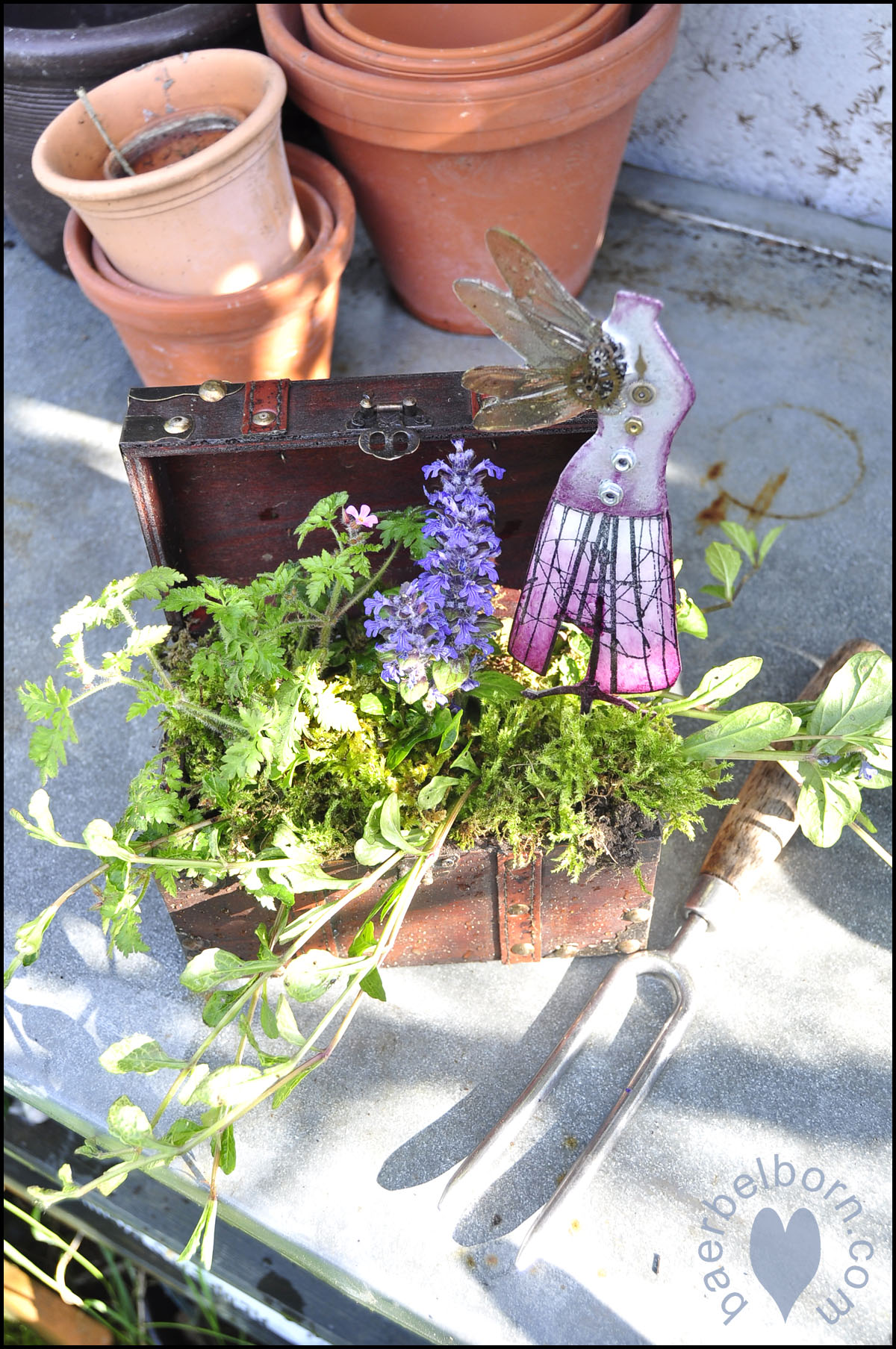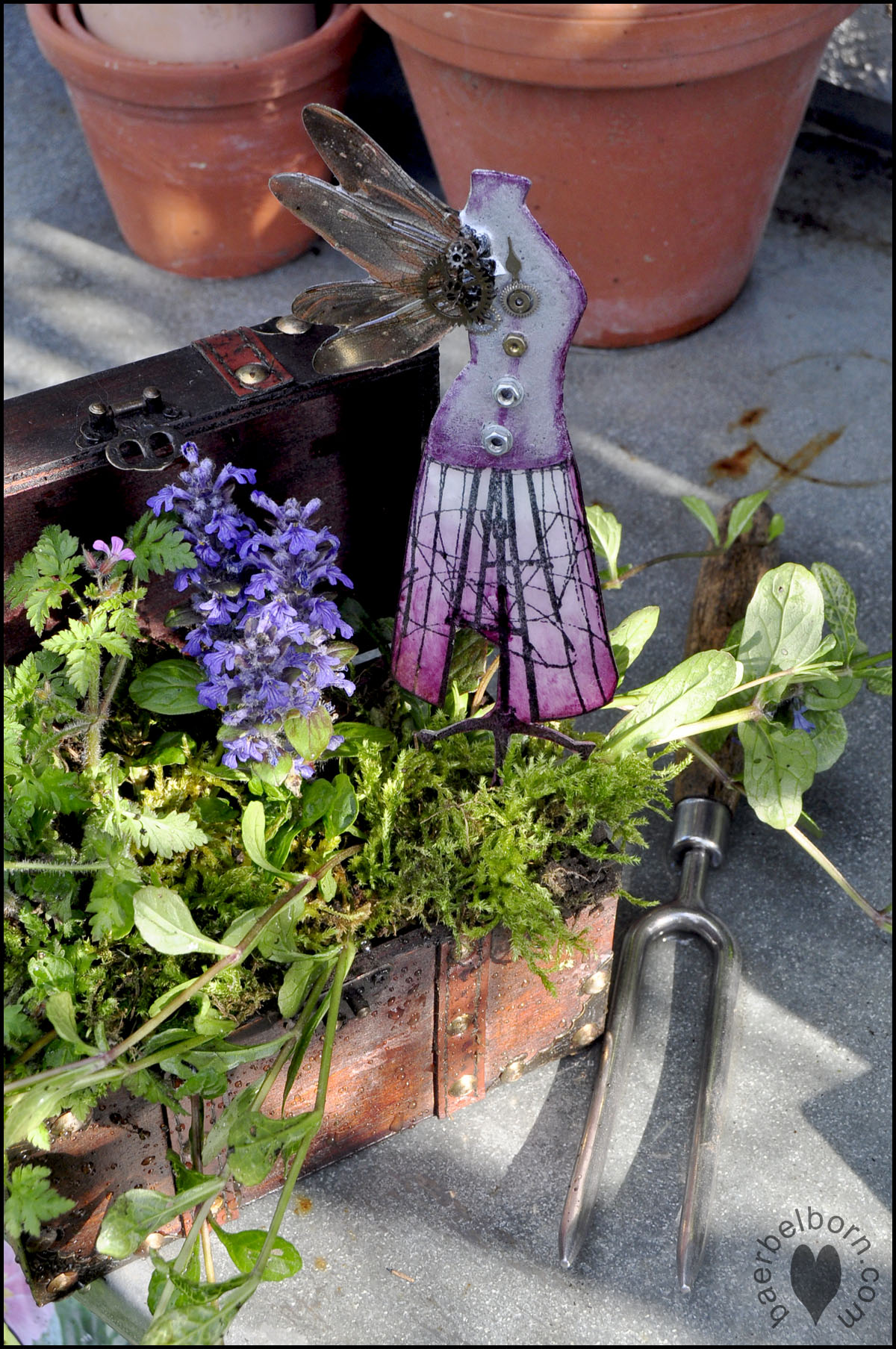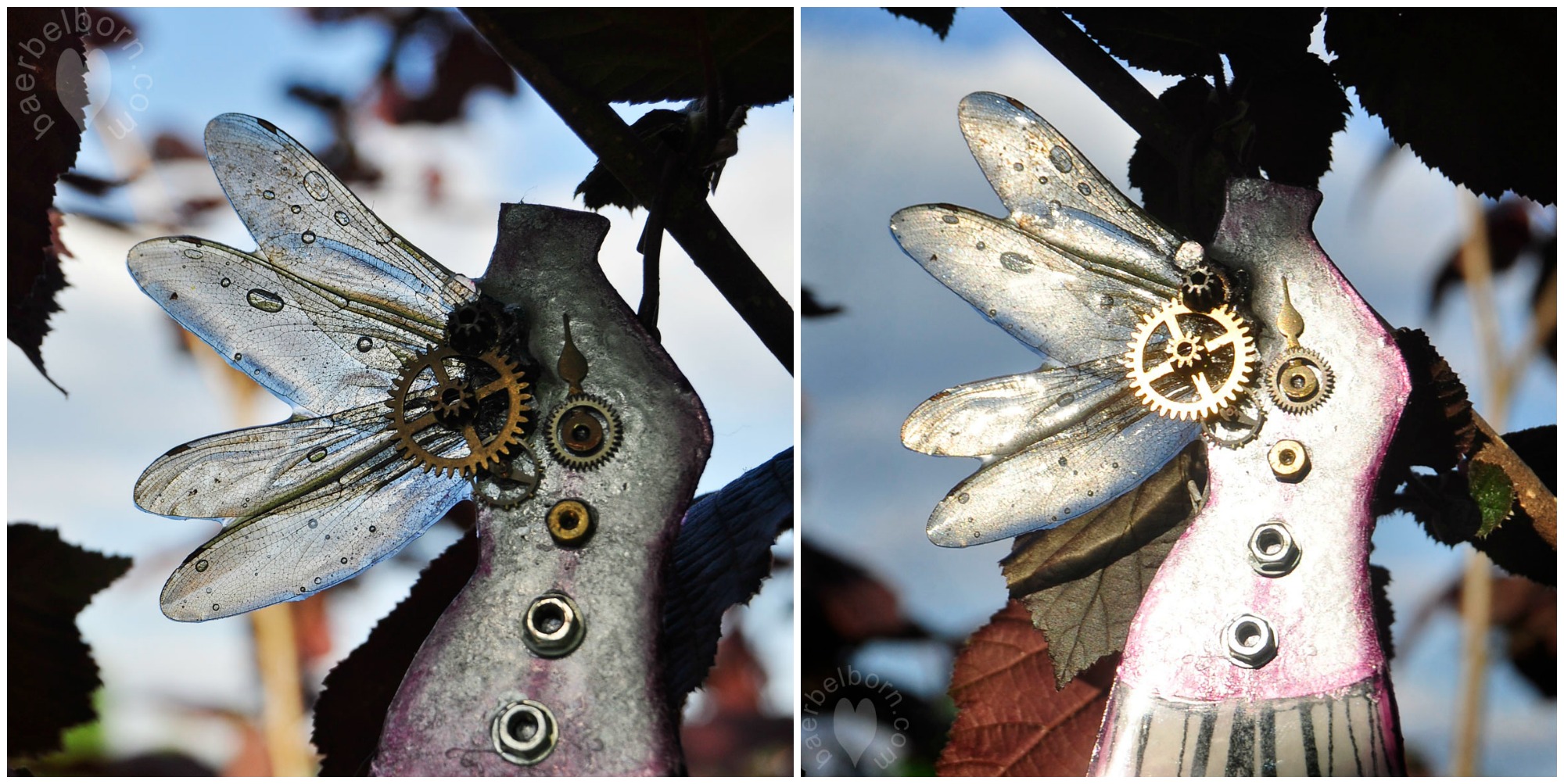 Support is LOVE