Over a year ago I had the amazing opportunity to become a part of the International Ambassador team of my favorite die company Spellbinders. All projects of my fellow team mates can be found here: Explore beyond.
I made large projects, home decor and I even pimped my car. To finish the variety of possibilities I want to make a card today. I felt in love with the new octopus die the moment I saw it this winter on the Spellbinders website. As a fan of steampunk style I couldn't wait to use it on a card.
To turn my little critter really into a steampunk I used some tricks I want to show you now.
For the card you need the octopus die and tile works for the background. I have cut the octopus from a beer boxing, because it is the most thin but sturdy cardstock I could find.
To achieve the gorgeous rust effect you have to cover the cardstock with Delicata silver stamp ink from Imagine Crafts and sprinkle black embossing powder over the shape. Just use a small amount as if you want to use salt on your soup. I used black powder from Imagine Crafts. Melt the powder and let cool.
Use copper iRESISTible texture spray (Imagine Crafts) on the octopus. With the spray still wet, scratch some chalk with a sharp tool (take care!) from the chalk block over the surface, and mix/stipple with an old brush. This will blend and tint the surface and give this very special textured touch!
Let dry the spray and chalk. Another option is to heat the spray with your heat gun to speed up the process very carefully. It happened to me that the spray got bubbles while heating, I opened the bubbles by rubbing with my fingertips after it has cooled down. This random effect was stunning!
For a better understanding please check the pictures below. You can enlarge the image by click it.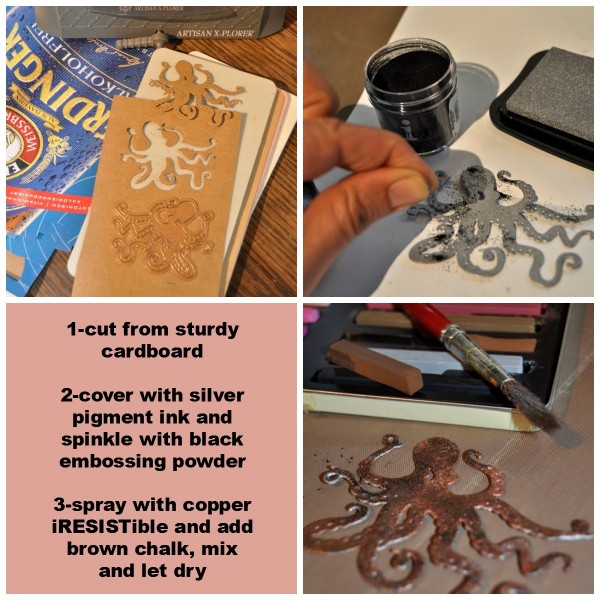 Repeat the process with the background tiles. I added some vintage stamps to my background and combined with pretty paper (Reprint- Sweden). The black background paper is covered with a Stampendous stamp.
I like the rust effect and will use the technique more often now. I hope you like it.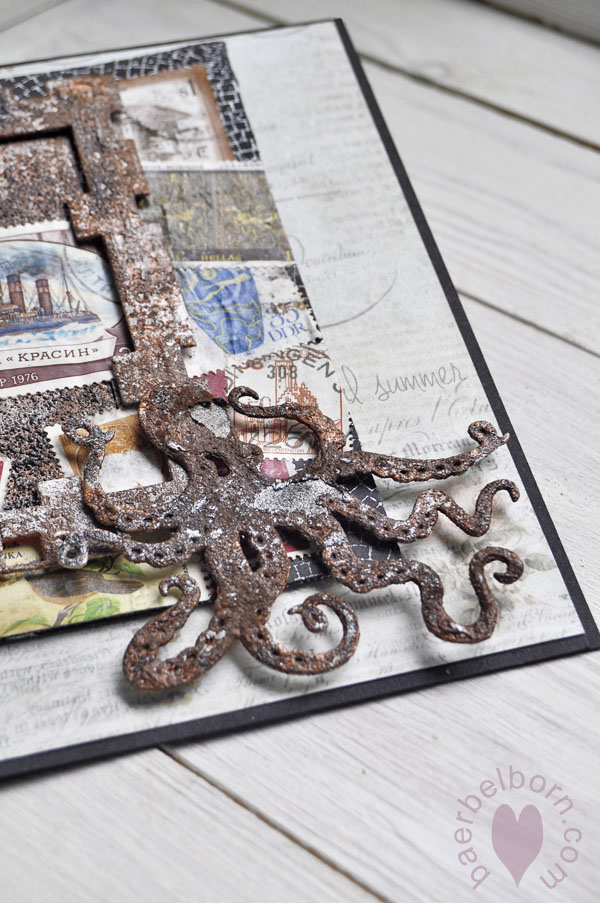 Support is LOVE