Deutsch ist unten!
Dearies!
The last card in my blog was made with one of my favorite techniques, stamping on plastic. (check it out here). A friend saw the card and told me, it is much prettier 'in real'. I have to admit, all plastic projects look better if you can touch them. How can I take pictures of something, that isn't visible? The glossy look and translucent effect of stamped and colored acetat is more spectacular if you see it right in front of your eyes!
Nevertheless I keep using plastic in a lot of my projects. Some of it is recycled, some bought in craft stores. The last card and todays project was made with a very strong foil, meant for windowcolor projects. Does everyone remember windowcolor? We had a hype over here in Germany during the millenium, and my stash is still not all used up, hehe. So I own this amazing sturdy plastic sheets and I am sure you all can buy those in your local craft store.
Stamping on plastic is easy since the day StazOn was introduced to the crafting world. The manufacturer Tsukineko added new and vibrant colors over the last decade. The latest addition to the StazOn family have been the midi pads this year.
So I created another plastic card for todays video as AIR for Imagine Crafts, the american distributor of the fabulous Tsukineko products. You can find the video and many more in the Imagine Crafts youtube channel. For your convenience I have put todays project right here, and a close up image of the finished card on the bottom of this post (skip the german part).
It was made with a StazOn midi pad 'Claret' and a die from the well known company 'Memory Box', who manufactures the most amazing cutting dies. I hope you enjoy my video. Like the last card it shows a 3D effect with a floating element on a plastic card base. The text is german and means 'happy christmas'.
Ihr Lieben!
Im letzten Blogpost hatte ich euch eine Grußkarte gezeigt, deren Hauptelement eine Lage Plastikfolie war. Eine liebe Freundin sah die Karte "live" und fand, sie sieht im Original besser aus. Das ist das Problem mit Plastik oder Glas: Durchsichtige Effekte fotografieren ist schwierig. Kein Foto kann den Glanz und die schöne spiegelnde Oberfläche sowie die Farben darunter zur gleichen Zeit einfangen.
Heute habe ich eine ähnliche Karte gemacht und ein Video dazu gefilmt. Ich hoffe, dass man den "schwebenden" Effekt, der durch das Arbeiten mit einer dicken Folie erzielt wird, hier besser erkennt.
Ich habe für das Projekt eine gestanzte Form auf eine Lage Windowcolor-Folie geklebt. Das ist supersimpel und geht schnell. Um das Ganze aufzupeppen, wurde zuvor mit der permanenten Farbe SatzOn gestempelt. (Sagte ich schon, dass dies meine Lieblingsstempeltusche ist?)
Die Stanze ist von Memory Box, die sich hierzulande einer wachsenden Beliebtheit erfreuen. Das Memory Box Regal in unserem örtlichen Stempelladen wird immer größer! Und das Beste: Sie machen nun auch deutsche Texte!!! klick
Ich hoffe das Video gefällt euch und ihr gebt ihm einen LIKE.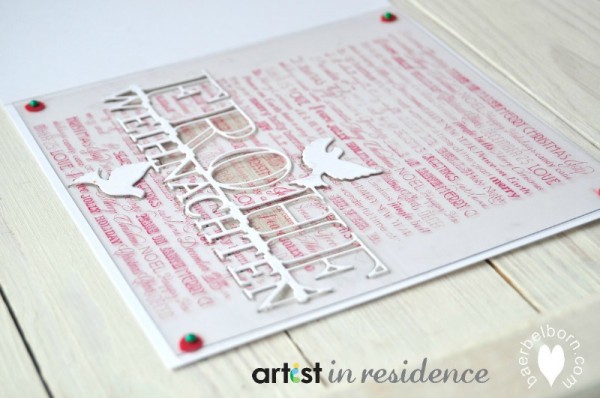 Support is LOVE