Some of you have followed my path during 2014 in the footsteps of an 'Artist in Residence'* for the company Imagine Crafts / Tsukineko. I have made projects and videos, and my intro "Hi, my name is Baerbel Born and I am Artist in Residence for Imagine Crafts Tsukineko" has become so familiar to me, I even started introducing myself with those words in a normal conversation!
I have become a part of the Imagine Crafts family. More than I ever expected or wished for. My love for Tsukineko products goes back into the late 90s and early millennium. So becoming part of it was a dream come true.
I have never developed my own style, as there are so many interesting things and styles to explore. Thats why I put stamp inks on everything that comes my way: Fabric and lace, furniture, litter from the recycle bin and for sure …paper. Once started, my mind cannot stop and I keep thinking of all the possibilities we can achieve with a high quality product.
I am no friend of unreflected consumption! I dislike companies, that keep telling us we have to buy the latest trend no matter how poorly manufactured they are. Thats why I adore companys with a high standart and tradition.
So my favorite companies – like Tsukineko, FaberCastell or Marabu – fullfill my idea of "innovation meets tradition". They all have never stopped to search for new products and new techniques but keep in mind the basic products every crafter needs  without any compromise in quality.
I have put all my strength, creativity and heart into my work. I hope you like it.
Thank you John Creighton Petersen, our fearless leader of the gang! I feel blessed to know you.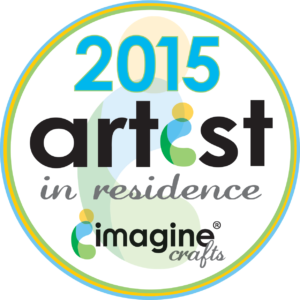 * Artist in Residence is the name of the Imagine Crafts / Tsukineko design team. And the name of an extraordinary bunch of creative minds. I am happy to be with them.


Support is LOVE