bilingual post
Dearies! It's the last day of the year and all I can say is: It was an amazing one!
I met so many new and inspiring people and some of them became so dear to me.
Today I have the honor to show a fun and stunningly easy to follow card idea just in time for todays New Years Eve parties. Imagine the same technique with flowers instead of rockets, and you will have an impressive card for every occasion!
Please visit the blog of Imagine Crafts for a video and many more inspirations for the upcoming year 2015. I hope it will be fab! LOVE you all!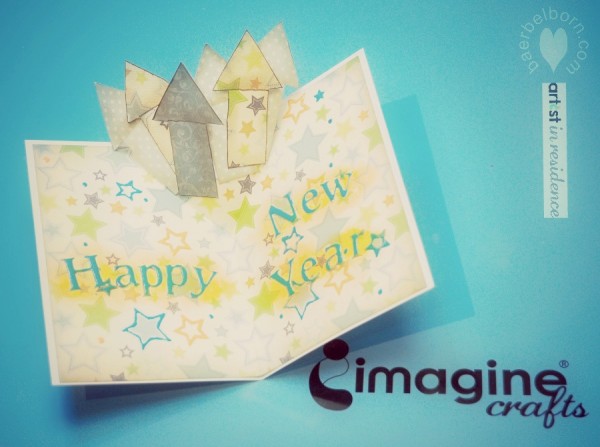 Ihr Lieben!
Noch ein paar Stunden, und das Jahr 2014 geht zu Ende.
Ich fand es phantastisch und erlebnisreich. Ich habe so viele neue Menschen kennengelernt und Freunde gefunden. Ich danke euch dafür!
Heute wurde gerade noch rechtzeitig eine kleine, einfach nachzumachende Kartenidee fertig, die man auch sehr gut auf alle anderen Themen abwandeln kann. Stellt euch vor, statt der Raketen lasst ihr Blumen oder Buchstaben aus der Karte springen…
Um zu sehen, wie die Raketen Pop Up Karte gemacht wird, schaut euch das Video im Blog von Imagine Crafts an.
Ich hoffe 2014 war für euch ebenso schön und denkwürdig wie für mich und meine Leute. Wir sehen uns 2015. Ich freu mich drauf.
❥ ❥ ❥
Hat euch meine Idee gefallen? Eine Tasse Kaffee oder zwei wären superlieb!
(den Schieberegler einstellen und auf den Einkaufswagen klicken, dann wirst Du zu Paypal weitergeleitet. Danke!)
❥ ❥ ❥
((liked the idea? Help my blog with a tiny tip, thank you!))
❥ ❥ ❥