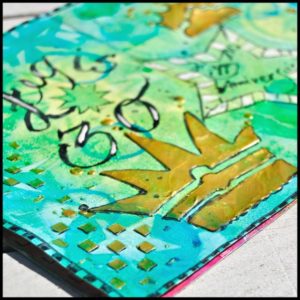 Für deutschen Text bitte ganz runterscrollen.
On the Creativeworld in January I met the pen manufacturer Kuretake in Frankfurt. All stampers around the world know (and love) their amazing waterbrush pens. They are so useful and handy, and I could not imagine my stamping days without it.
A few weeks ago I had the problem to draw on a very uneven surface on a mixed media painting. My pens didn't work because the surface had too much texture. So I used a brush to apply my mixed media spray paint. This worked really nicely, and I decided to try painting with my waterbrush from Kuretake.
I turned my 'water'brush into a paintbrush, that will never run dry!
Watch my video to learn how you can make your own everlasting paintbrush.
I tested my brush with an acrylic art spray. Please try your own inks and liquid paints, but I cannot guarantee they will work. Do not blame me if yours won't work, but you will be able to clean your waterbrush if you haven't used a permanent ink anyway. DO NOT used permanent inks. I would not recommend any alcohol based inks or other solvents for he waterbrush.
And do not push the brush too hard, you do not want to make the ink drop.
I love my 'everlastingbrush' for mixed media. I hope you like it as well.
I also made this art journal page with my waterbrush loaded with black art spray:
Here is the page from the video, I made a special page for Kuretakes 30s anniversary. Happy Birthday, ZIG!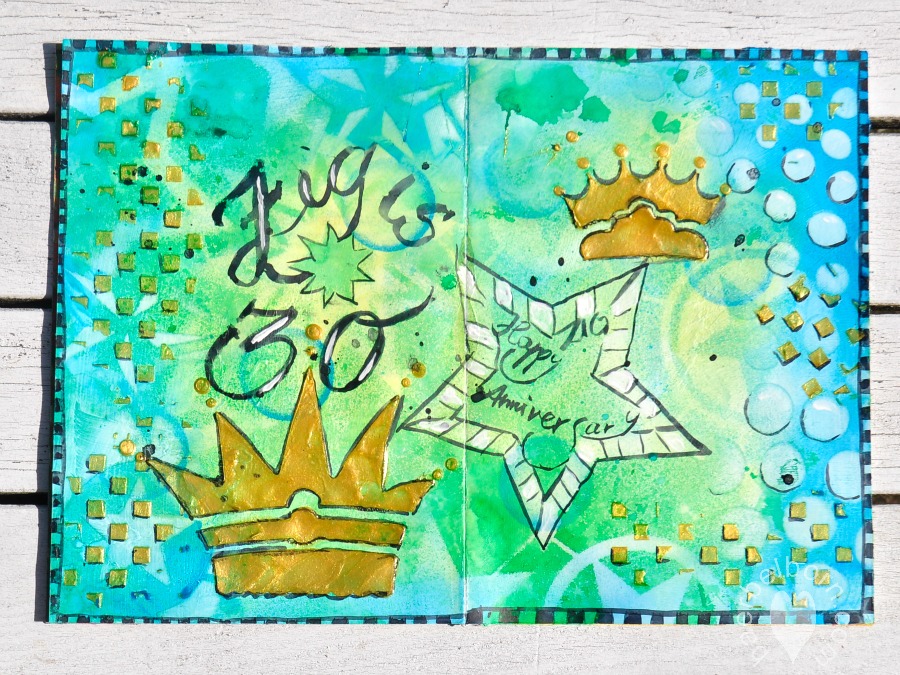 Der heutige Beitrag entstand aus einer Notlösung: Ich hatte Mixed Media gemalt und wie es dabei häufig passiert, eine sehr unebene Fläche mit zig Lagen Farbe, die ich beschriften wollte. Meine Lackmarker wollten nicht auf dem hubbeligen Untergrund arbeiten, und so habe ich mit dem Pinsel Acrylfarbe aufgetragen.
Damit ist es schwierig, sehr feine Linien zu erzeugen. Dann habe ich mit dem Art Spray von Marabu und einem Pinsel gemalt und das klappte wirklich gut. Hierzu schraubt man die Sprühflasche auf und entnimmt mit dem Pinsel etwas Farbe. Doch damit kann man nur schwer lange Linien oder Schriften zeichnen, die die Farbe im normalen Pinsel immer wieder aufgefüllt werden muss.
Also habe ich meinen guten, alten Wassertankpinsel von ZIG/Kuretake hergenommen und mit der Art Spray Flüssigkeit befüllt. Ich bin begeistert!
Im obigen Video habe ich ein schnelles Video gefilmt, wie ich eine Art Journal Seite erstellt (aus einem alten Prospekt, dazu ein andermal mehr) und dann die Farbe eingefüllt habe. Zu beachten ist hierbei, dass ihr nicht zu fest auf den Wassertank drückt. Ein Tropfen Wasser zu viel mag nicht schlimm sein, aber schwarze Farbe überall wollt ihr ja nicht haben. Außerdem wird der Farbauftrag nicht so tiefschwarz wie ein Lackstift oder Edding, aber wenn ich sehr schwarze Linien möchte, gehe ich einfach zweimal über die Fläche. Ich mag auch den leichten Aquarelleffekt sehr.
Füllt bitte nur wasserlösliche Farbe in euren Pinsel. Und ich habe diese Idee nur mit dem Art Spray getestet, andere Farben müsst ihr selber testen.
Ich hoffe aber, es hilft euch wenn ihr beim Mixed Media mit Stiften schwer zurecht kommt. Eure Bärbel
❥ ❥ ❥
Hat euch meine Idee gefallen? Eine Tasse Kaffee oder zwei wären superlieb!
(den Schieberegler einstellen und auf den Einkaufswagen klicken, dann wirst Du zu Paypal weitergeleitet. Danke!)
❥ ❥ ❥
((liked the idea? Help my blog with a tiny tip, thank you!))
❥ ❥ ❥